Fr Finneran joined the Society of Jesus in Ireland and was an excellent sportsman himself in tennis, football, golf and athletics. Fate played a big part for Fr. Finneran to join the teaching staff of Wah Yan College Kowloon in Hong Kong in the 1950s. Teaching with great enthusiasm on the subjects of English and Religious Knowledge, he was also well remembered for being a Class Teacher for Form 5B (or Form 5A2 in the 80s). He spent long hours teaching boys the Catholic faith and was instrumental in many Wah Yan Kowloon boys becoming Catholics. He also offered sound career guidance and advice to many of us who became established professionals, businessmen and teachers in later life.
After his golden years in competitive sports were over, Fr Finneran concentrated on bringing up younger generations of sportsmen, in particular tennis players. He was best remembered for coaching the school tennis team to 10 successive championships from 1972-1981, which was a record unlikely to be repeated for many years to come. This sporting achievement may neither be mentioned in the same breath as what Matt B05/28/2013sh football nor Roger Federer, Pete Sampras and Bjorn Borg's runs of successes in Grand Slam singles tennis championships, but it was an amazing coaching record turning out 10 successive winning teams in any sports.
Fr. Finneran brought solidarity, team spirits and discipline to his sports teams. He was dedicated to the pursuit of excellence and his recipe for success was hard work, practice and consistency. What we failed to realize at the time was that Fr. Finneran already prepared us to handle both winning and losing situations in future life.
"Good men" with an Irish accent. When we were young boys, we all aspired to be good men. If you pronounced a tongue-twister corre11/08/2010promising position on the tennis court, you would receive the accolade of "good man" from Fr. Finneran.
For many of us, Fr Finneran had been an outstanding priest, a respected teacher, a passionate coach, a lifelong mentor and a trusted friend in different stages of our life. The least that we could do for Fr Finneran was to start a living memorial to remind future generations of Wah Yan students what a great man he was.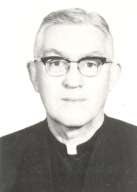 Born 23rd January, 1915, Ireland
Died 1st October, 1989, Hong Kong
---
A Message from Fr. Deignan
Rev. Fr. Patrick J. Finneran, S.J., was a man dedicated to the pursuit of excellence in his students and in himself. He was seen very frequently practicing tennis with boys from every Form. Fr. Finneran¡¦s commitment helped him to coach ten championship tennis teams.
Fr. Finneran loved most sports and was himself an excellent sportsman. He coached the Kowloon Wah Yan Football Team before he took over the tennis team.
Father was also the President of Hong Kong Schools Sports Association which organization ran the Annual Interschool Athletice Meet.
He also spent long hours teaching boys the Catholic faith and was instrumental in many Wah Yan Kowloon boys becoming Catholics.
Rev. Fr. Alfred Deignan, S.J.